Der Trend der nächsten Jahre: Nach Mobilität kommt nun Robotics – Mit Alexander Prüll
von Stephanie Janszen, 04 Aug 2022
"Voll im Zeitgeist: Nach Star Wars und all den Movies sind wir bereits im doing!"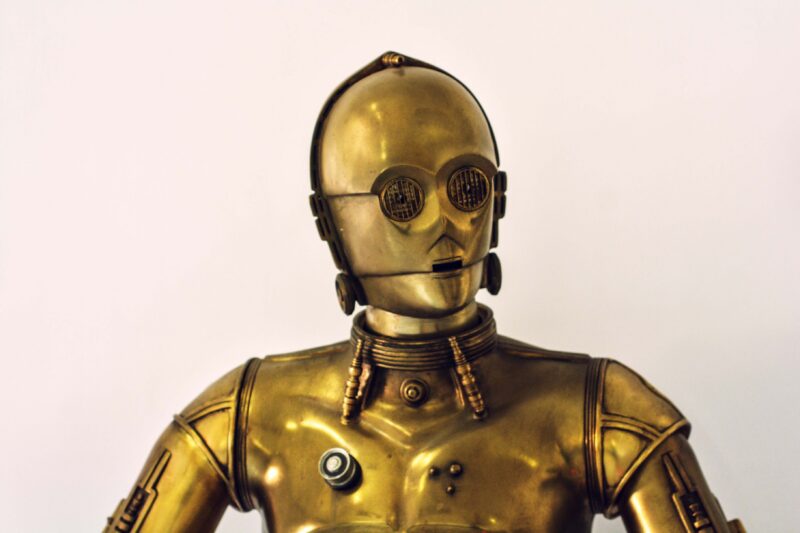 Nick Sohnemann begrüßt im POD #85 einen ziemlich trendbewußten Innovationspartner: Alexander Prüll, Managing Director von Entrance Robotics GmbH. Die beiden Experten sprechen über den großen Hype im Tech Universe – Robotics.
In den letzten Jahren hat ein anderes Thema die Trends dominiert. New Mobility fand flächendeckend in den Medien statt und EVs und PLEVS gehören mittlerweile zu unserem Alltag. Nun geht es weiter in Richtung KI und Robotics. Ein Thema, das deutlich positiver konnotiert ist, als uns oft bewusst ist. Nick und Alex diskutieren über neue Lösungsperspektiven. Pflegenotstand, Fachkräftemangel oder spezialisierte Aufgabenfelder, für die das herkömmliche Personal keine Kapazitäten hat, fordern neue Denkansätze, meinen die beiden Experten. Und das Schlüsselwort in dieser Challenge heißt nicht etwa, Maschine ersetzt den Menschen, sondern der soziale Aspekt rückt in den Fokus und schafft neue Mehrwerte, wo wir in den letzten Jahren deutlich an unsere Grenzen gestoßen sind.
Nicht Verdrängung, sondern zusätzlicher Benefit – das sind die Möglichkeiten, die uns in Zukunft erwarten. Mensch & Maschine in Kommunikation. Der Kommunikationswissenschaftler Alexander Prüll berichtet von der Motivation, die Social Robot-Einsätze vor allem im Pflegesektor generieren – nicht nur das Kindchenschema von Pepper… Gerade in der Geriatrie und beim Elderly Care steigt die Nachfrage enorm.
Der demografische Wandel führt zu einer steigenden die Zahl der Hilfs- und Pflegebedürftigen, während die Bevölkerung im erwerbsfähigen Alter sinkt. Dieser Trend führt zu einem weiter sinkenden Arbeitskräfteangebot in der Pflege und die Belastungen im Pflegesektor steigen.
Die gesellschaftlichen und wirtschaftlichen Konsequenzen spüren wir bereits heute deutlich. Wenn der Berufszweig "Pflege" immer unattraktiver wird, aber immer stärker nachgefragt wird, ist hier die soziale Sternstunde der neuen Hilfsroboter, sind sich Alex und Nick einig. Der Robotics-Experte führt die Anwendungsmöglichkeiten der neuen Supporter weiter aus. Von Zeitangeboten im Elderly Care, wie Spielepartnerschaften oder gezieltem Feedback zum Gesundheitszustand der Pflegepersonen hören wir in diesem Innovations-Podcast.
Nick ist überzeugt, dass hier die Lösung für einige unserer großen gesellschaftlichen Pain Points liegt. Digitalisierung zur Schaffung von innovativen, menschenbezogenen Ökosystemen. Welche Ansätze im Bereich Robotics bereits heute umsetzbar sind, erfahren wir von dem Entrance Geschäftsführer.
Natürlich geht es auch um Datenhoheit und europäische Stolpersteine. Aber auch in Europa ist langsam immer klarer, dass es besser ist, mitzugestalten, als sich immer nur an vorgegebenen Maßgaben anderer Player zu orientieren.
Vorurteile gegenüber den Einsatzmöglichkeiten neuer Robotics-Technologie sollten dringend hinterfragt und aktuelle Entwicklungen, gerade im Gesundheitssektor, berücksichtigt werden.
Die Innovations-Profis diskutieren Vorurteile, Nachfrage, Eintrittshöhen und innovative Cases Studies im POD#86
Im Innovations-Podcast#85 gibt es viel Stoff zum Nachdenken. Die Expertise aus Industrie & Deep Tech in der Kombination mit Service & Social Aspekten überzeugt mit vielen guten Use Cases und positiven Szenarien.
Eine neue Perspektive auf den großen Zukunftstrend Robotics erwartet euch in dieser Folge.
.
Über Entrance Robotics GmbH:
Die ENTRANCE Robotics GmbH ist der Wegbereiter zukunftsweisender Care Solutions auf Basis humanoider Robotik für Kliniken und Pflegeeinrichtungen. Weiterhin realisiert das Unternehmen innovative Projekte der Service-Robotik in den Bereichen Retail, Business Marketing und Hospitality.
Entrance Robotics ist Teil der United Robotics Group, einer Kollaborationsplattform von Experten und Partnern mit der Mission Hardware, Software und Know-how für die bestmöglichen Robotik-Lösungen zu vereinen. Als Teil dieses Zusammenschlusses garantiert das Unternehmen nicht nur exzellente Lösungs-, sondern auch Markt-Kenntnis.
Der Firmenname "ENTRANCE Robotics" leitet die Firmenphilosophie "Welcome to the new digital life" ein. Im Bereich Healthcare trägt Service-Robotik zu einer verbesserten Lebensqualität von Patienten und zur bewussten Entlastung von Mitarbeitern bei.
Auf dem ehemaligen OPEL Gelände in Bochum und in der Nähe zur Universität, entsteht ein neuer Campus mit dem Fokus auf Innovation und New Industry.
Neugierig? Hier geht es zur Podcastfolge
Weitere Podcasts findet ihr hier